(An ISO 9001:2008 Certified Company)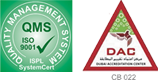 (An ISO 9001:2008 Certified Company)
Vicky Electrical Contractors (India) Pvt. Ltd. is one of India's leading ISO 9001:2008 Certified Electrical Contracting Company.
A division of EV-GROUP with a track record of more than 30 Years in undertaking Electrical Contracts for Govt / Semi Govt. Agencies and Major Corporates.
VEC Currently holds a Class A without limit License for contract execution PWD / CIDCO / CPWD etc.